The Institute for Preparing Heirs tools are available to advisors who attend our workshops. Our proprietary tools help move the inheritance conversation from money matters to family matters.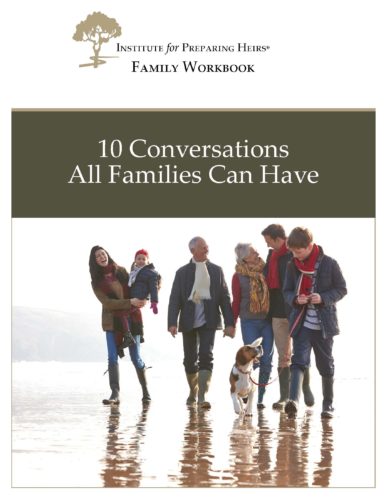 WORKBOOK: 10 Conversations All Families Can Have
This 44-page workbook offers 10 family wealth conversations designed to build trust and open channels of communication by aligning family members around the meaning and overall purpose of their family wealth. Included are actual family stories, guidelines for content and facilitation, and conversation checklists.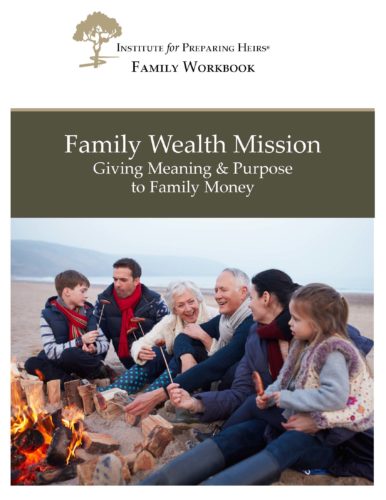 WORKBOOK:  Family Wealth Mission – Giving Meaning & Purpose to Family Money
This workbook takes families through the Institute for Preparing Heirs four-step process for creating a Family Wealth Mission Statement. It articulates the core family values and priorities for the use of family wealth. All family members are encouraged to participate in creating this guidepost to serve families and their trusted advisors today and for generations to come. The process brings family members together to learn which values they share, and how these values lead to a vision for their family wealth. The end result is clarity and confidence in a statement that reflects the family's collective goals, values, and apsirations.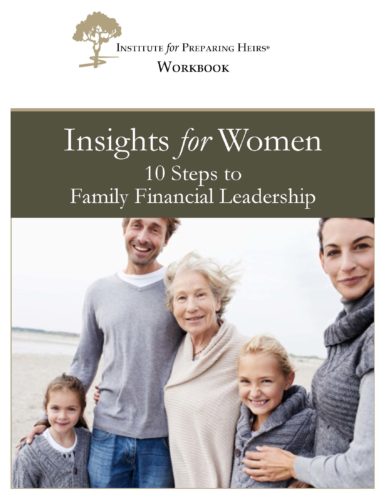 WORKBOOK: Insights for Women – 10 Steps to Family Financial Leadership
This workbook provides women of all ages and various stages of life with a clear pathway to prepare for family financial leadership. It begins by preparing themselves and then, preparing their children and grandchildren for what happens when they inherit wealth. It offers 10 steps from organizing family records to meeting as a family around family wealth conversations to the benefits of establishing a family giving program. Also includes are helpful family financial worksheets and checklists.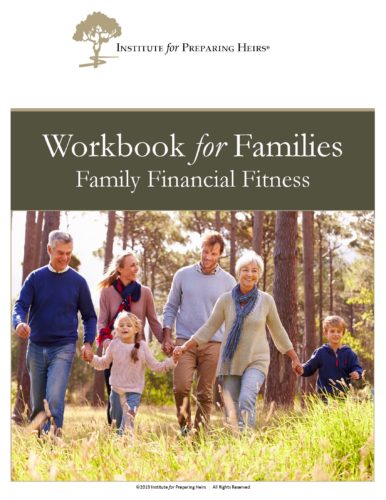 WORKBOOK: Family Financial Fitness
Families may not be able to predict the future, but they can prepare for unforeseen events that might change their financial priorities overnight. Now is the time to have plans in place for unanticipated challenges – before they happen. Having a clear financial plan and keeping it up to date as needs and circumstances change, is imperative.
This workbook provides a guide for families to plan for unexpected changes. It also includes financial planning worksheets and family checklists.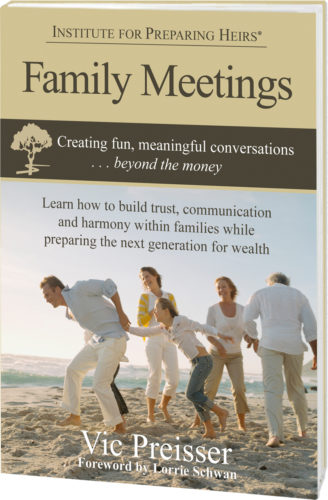 BOOK: Family Meetings – Creating fun, meaningful conversations, beyond the money
Family Meetings is an easy-to-follow how-to guide for setting up and hold a family meeting. It offers agendas along with suggested topics and guidelines for conversations that move the family toward lasting harmony. Family Meetings tells the family how to:
Invite the family, beyond bloodlines
Involve all family members
Develop an agenda with input from all family members
Allow family members to lead the meeting
Select the venue and even set up the room for the best results
Identify rules for behavior and attendance
Actions to take when a family member says "no thanks" to participating
Select topics to discuss in the first family meetings 
As a bonus, Family Meetings includes seven topics, along with guidelines, for families to follow to initiate new family conversation, beyond the money.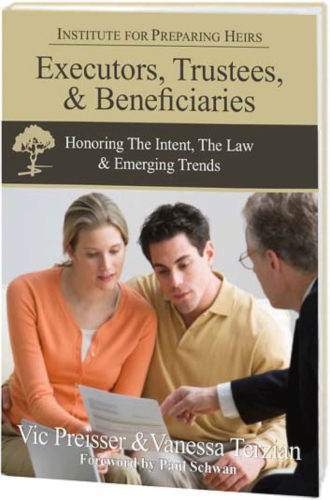 BOOK: Executors, Trustees, & Beneficiaries – Honoring The Intent, The Law & Emerging Trends
This question-and-answer book sets the stage for more knowledgeable conversations about the roles of executor, trustee and beneficiary. It does not focus on intricacies of law. Families will gain an appreciation and tolerance for the experience and education that go into making a good executor, a good trustee, and a good beneficiary. It's the combination of education, experience, knowledge, tolerance, and a mutual desire to work together as a team that makes for a successful post-estate transition experience. There are no substitutes!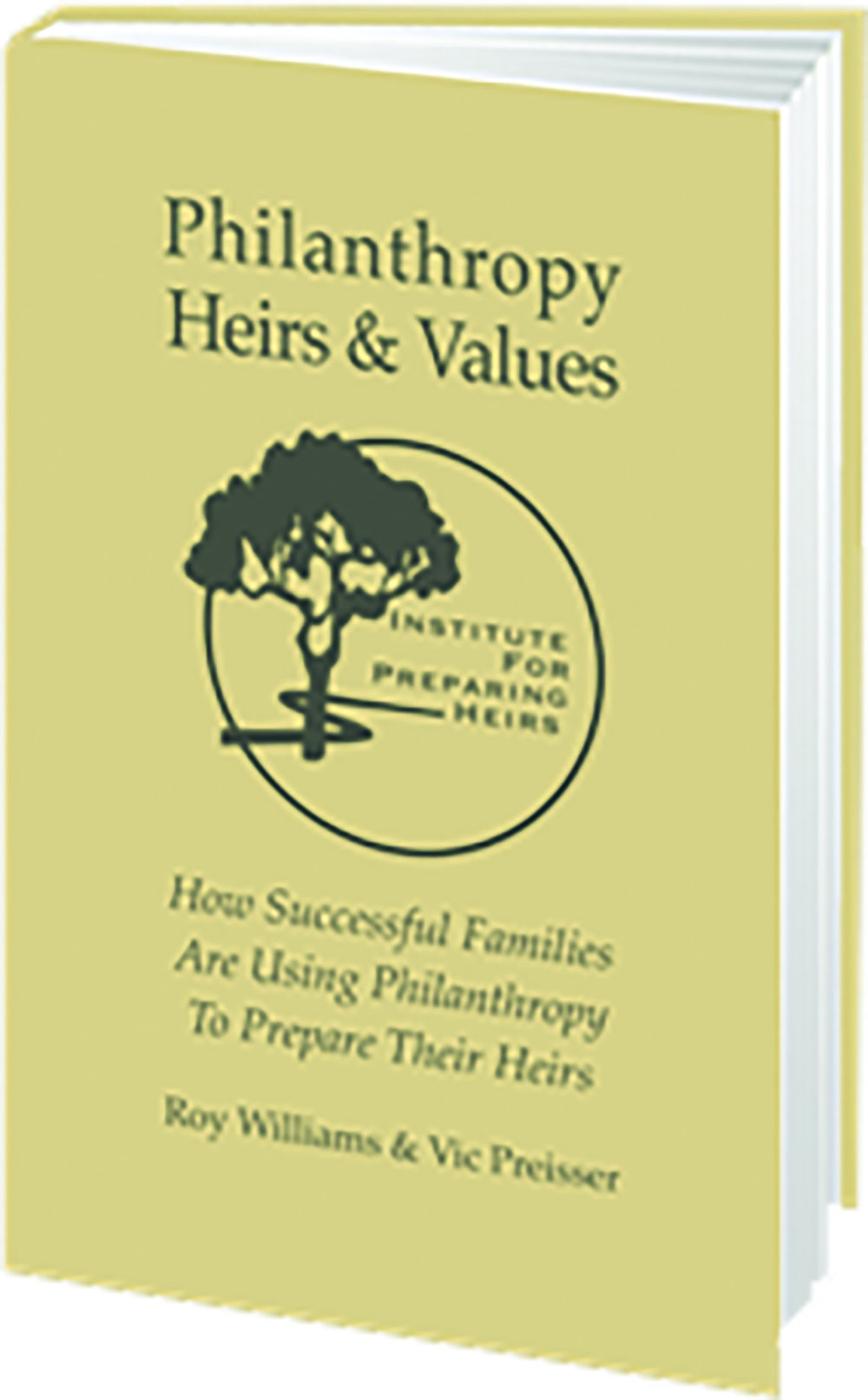 BOOK: Philanthropy, Heirs & Values – How Successful Families Are Using Philanthropy To Prepare Their Heirs​
How can you improve your heirs' odds of post-transition success? The hidden power of philanthropy to prepare heirs for wealth and responsibility is revealed in this first-of-its-kind book by Roy Williams and Vic Preisser. After interviewing 3,250 affluent families, and examining almost 100 family foundations, the authors disclose how successful families are using philanthropy to teach. The children learn values, to develop their appreciation for focus ona specific mission, and are instilled with a sense of accountability. In many cases, the family leadership's use of philanthropy as a teaching tool determined whether or not the family remained unified (and financially successful) in their post-transition period.
"No one in the industry is providing these kinds of programs, tools and resources."
                                               — John. J., Senior Wealth Advisor